Now offering FREE WHITENING for all new and existing customers!
We all want to look our best, and having a bright white smile is one part of that. Enter the glow up! We're excited to announce we will now be offering free whitening to new and existing customers. Just mention it when booking your next cleaning appointment or during your first call to take advantage of this special offer.
Requirements
Limited to adult (18+) patients
Available with a check-up or new patient exam
Our whitening treatment involves the fabrication of personalized, thin plastic trays to hold a whitening agent in close contact with your teeth. Following the initial in-office whitening, patients are provided with their custom trays*, whitening gel, and the appropriate instructions to continue the process at home — so you can touch up any spots and make sure your glow up continues brightening up your life!
Actual amount of tooth whitening will vary between patients. Tooth whitening is not effective on all forms of staining. We recommend following the provided instructions carefully to ensure optimal results and minimize side effects, such as tooth sensitivity.
The Problem I Have With Whitening Toothpaste…
Please note, the amount of teeth whitening will vary between patients. Tooth whitening procedures DO NOT affect the colour of any fillings, crowns or veneers and may result in your natural teeth being whiter than teeth that's been previously restored.
The Worst Foods For Staining Your Teeth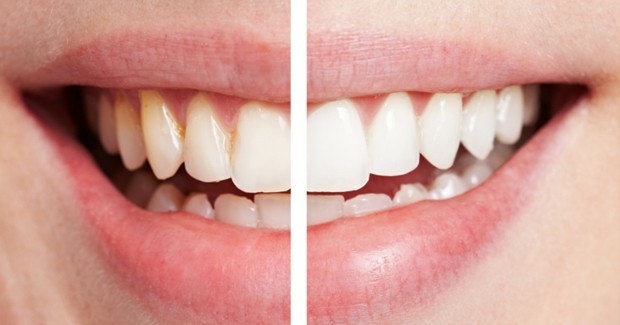 This is not a photograph of a ThirtyTwo Dental patient, but a photo sourced externally to show the potential effects of whitening treatments. Photographs are for educational purposes only. Individual treatment results will vary from patient to patient. Some patients may not be candidates for treatment.
Book your FREE teeth whitening today!
*Please note:
Custom trays and whitening gel provided by ThirtyTwo Dental
Patient is responsible for the costs to replace lost or damaged trays
Additional tubes can be supplied on request at 6-month cleaning/check-up